1.
Written at the end of September -98 by Esa L.
And I dropped lotsa stuff out, you foreign people
wouldn't want to read it anyway.

Time Flies-photo by Roy Haapakoski

--September 1990

Time Flies was a punkpop group, which was formed in 1990 from the ashes of two metal bands - Claymore and Pathetic. Lineup was: Olli Linna (voc, g), Esa Linna (voc, b), Tomi Korhonen (g, voc) and Kim Kannussaari (dr).



At first the name was Mindtrip, but Subhumans LP and song title "Time flies...but aeroplanes crash" inspired us to change name. Red Hot Chili Peppers and Nomeansno were in high rotation in our record players, and you could hear it in our music at the time.
---
--Depressing cover art
Spring '91 we went to studio to record our first 7" EP with guidance of Juha Linna, oldest brother of Linna bros. Hilu, national radio station RadioMafia's Ilmestyskirja - "Apocalypse" - punk/hardcore-programme broadcaster said that it was "cock rock" and then biggest rockmagazines Rumba and Soundi reviewed the record "promising". First-mentioned criticised the cover art by saying it "depressing"(!). Cover was a combination of very fat lady's upper body and Sean Connery's eyes.

It didn't took long before we heard Bad Religion's melodies and multi-part harmonies (actually we were of the first one's in Finland. I think Nowhere and Amazing Tails were the first.)
2.

--Bon appetit
In turn of the year 92-93 it was time to record second seven-incher Bon Appetit, with J.Linna again. Now there were influences from punk and pop, though there was also one grunge-influenced track. A-side was glad side and B-side was sad side, on the basis of moods.


Maximum Rock'n'Roll (US "punk bible") told that we played "fairly good bubblegum punk". It had an effect, because few US radiostations and indiemusiczines wanted the record for rotation and review. There went also records for sale in Germany, with the help of MRR review.

--Bubblegumpunk
Summer '93 we were playing in Woodrock, Pietarsaari and most popular finnish punk rock bands, Klamydia's vocalist Vesku saw us and happened to like what he heard. Later in Elefanttirock, Kokkola he told us that their label Kråklund wanted to make record deal with us.

Fall of '93 we were in the studio with recording/mixing engineer& producer J.Linna. Kråklund put our mini-CD Bubblegum Punk out in spring '94. MRR told that it was "like a really pop Bad Religion with its tight riffing", but the reviewer did'nt like vocals, because it reminded him from "dork of Oingo Boingo". Probably he listened the last song, punkasfuck/ska-track "Life of my own" where Olli had opened his voice with help of strong drinks. When the mini-CD came out, we were happy and lucky to get supporting gig for ALL, which was truly immemorial.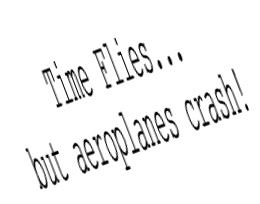 3.

--Cockgrunge and gracious melodies
(don't even try to understand the title)
There went about 8 months before we got to record our full-length CD for Kråklund. Record was born with help and co-operation with Vocational College of Western Lapland, Department of Arts and Media in Tornio which actually is located in the western side of Lapland. Obscure place to record sunny poppunk. We recorded 18 basic tracks in one day and then added vocals, more guitars, tambourines, banjo, keyboards and something else between January-April 1995.



15 songs was chosen for very good record Happy Smile. Somehow marketing wasn't that good and record went basically nowhere, but track 4, "Space Aliens" was in pretty good rotation in RadioMafia. Multinational record label K-Tel chose it to compilation called Punk+, and the record went to whole Scandinavia. We recorded few songs also live in rockclub Jesperi, and couple of tracks was published in Let Me Drive-comp.CD which contained bands from our hometown Ylivieska.

Happy Smile was our last record but we recorded songs for full-length CD (working title was Pumporganbank) which was never published because we broke up. This happened in fall of 1996. It was - no doubt - our best effort, Olli was main song writer at the time and besides fast punkpop there was also type approved power pop. There was most important information, I don't have interest to write about gigs since there was easily over 100 of them.

4.

--Time flies...
We decided to split up in spring 1997. Kim and Esa lived in Jyväskylä, Olli and Tomi in Ylivieska. No fun to drive few hundred kilometres for rehearsals, and Kim had become a father and Esa was going to be. Something else to think about.

Later we all contributed in the genre of powerpop: Olli played bass and sang backing vocals in Cartoon Tree, Kim and Esa had a heavier powerpopband 86 Yourself in Jyväskylä and Tomppa made promoCD and one gig with Ethel Suspense before he went to study in one of the universities of London.



After TF split up, it took about 1 1/2 year before we did one surprise gig - we didn't have a single rehearsal but it went well and left us a good feeling. Nice and instructive seven years, you might say!
Update: just received the password to these pages after 8 years. A lot of happened: Olli died in 2002. The release of Pumporganbank has been in talks.